Kim Il Sung's Reminiscences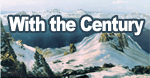 New Information
Periodicals

Pictorial KOREA [09]

Magazine KOREA TODAY [09]

Magazine FOREIGN TRADE [03]
E-bookshop
Photos

Meari Shooting Gallery

Three Charters for National Reunification Memorial Tower

Revolutionary Site on Ssuk Island

Apartment Houses for Teaching Staff of Kim Il Sung University

Tower of the Juche Idea

Arch of Triumph


1 / 3




Field Guidance to October 8 Factory

Kim Jong Un, First Secretary of the Workers' Party of Korea, First Chairman of the National Defence Commission of the DPRK and Supreme Commander of the Korean People's Army, provided field guidance to the October 8 Factory built as an icon and standard of the DPRK's industrial establishments.

Enjoying a bird's eye view of the factory, he expressed great satisfaction, saying he could hardly find any trace he saw last year, it did not look like a factory but a rest home as it turned into a thick woodland and greenery and park and the culture of workers was in full bloom in all its worksites.

He went round a monument to the revolutionary activities of the peerlessly great persons of Mt. Paektu, hall of culture, e-library, cutting shop, finishing shop, products show room, gymnasium, Unjong health complex, canteen, rest home, workers' hostel and various other places of the factory to learn in detail about the construction and production there.
British Plan for Producing Anti-DPRK Movie under Fire

A spokesman for the Policy Department of the National Defence Commission of the DPRK issued the following statement on August 31:

Recently the British 4th TV channel producers openly made public a plan for producing and airing a serial TV drama-style movie malignantly slandering the DPRK.

The movie is nothing but a conspiratorial charade painting a wrong picture of the DPRK's reality as it is based on a sheer lie intended to give impression that the DPRK's nuclear treasured sword for self-defence was manufactured by "illegally acquiring" nuclear technology from Britain.
Business Scope Expanded
The Korea Songaksan Trading Corporation is conducting trade business relying on its economic foundations built up in Kaesong.
The corporation has under its control scores of exports production bases, service centres and several joint venture enterprises.
Garment manufacturers, including Songdo Garment Factory, Songaksan Garment Factory and Kaesong Aeguk Garment Factory take a lion's share in its business activities.
Pyongyang Int'l Pro-Wrestling Contest Closes
Present there were Kim Yong Hun, minister of Physical Culture and Sports, Kanji Inoki, chief director of the Sports Peace Community Association of Japan, and Jang Ung, chairman of the International Martial Arts Games Committee, who are co-chairmen of the organizing committee of the games, Pak Kun Gwang, chairman of the DPRK-Japan Friendship Association, Kim Myong Chol, executive member of the International Martial Arts Games Committee, working people in the city, foreign diplomatic envoys in the DPRK and their wives, foreign embassy officials, foreign guests and overseas compatriots staying in the homeland.
Addresses were made at the ceremony.
Following are the results of the second-day games at the Pyongyang International Pro-Wrestling Contest: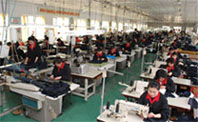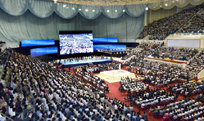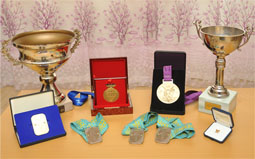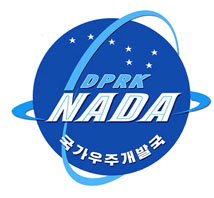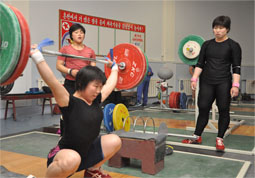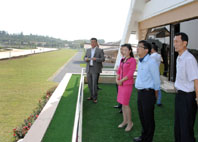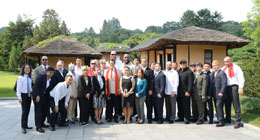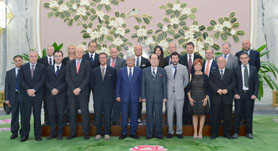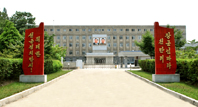 Celebrated Mountains of Korea ::

1/4


/ 14

Time-honoured History & Brilliant Culture


New entries of music